PHP Email Newsletter Software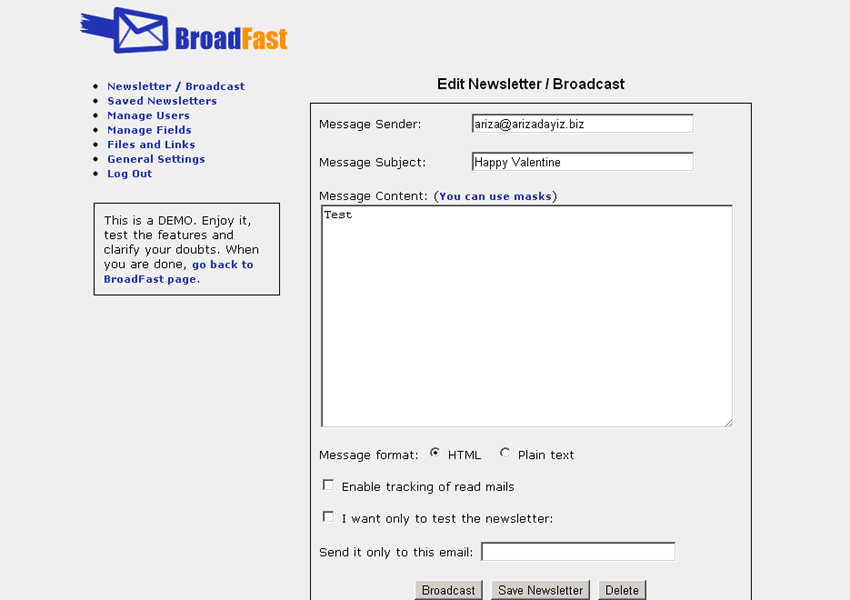 HOT: Search Subscribers, Unicode Support, SMTP & Sendmail!
Take Full Control Over Your Mailing List:
BroadFast Is PHP Email Newsletter Software That You Can Host Yourself Even On A Cheap Shared Hosting Account!
BroadFast is small, easy to install and easy to use php mass mailer.
Your money is in your mailing list, don't leave it on the table. BroadFast gives you full control for personalized mass mailing, import/export and registration of new members
Don't pay monthly fees for email services: BroadFast runs on any Linux host that supports PHP and MySQL.
---
BroadFast Email Newsletter Software Is Your Choice, Because:
Using it is easy as a cake. There is one page manual - all other answers are answered straight on the screen.
There is one-click web based installation. Create the database, upload the files on your server and you are ready to go.
Broadfast allows unlimited customization of the emails content. You can add your own fields to the mailing lists and have them replaced with the actual member's data.
You can keep it on your server. No monthly fees and no quiet support exactly when you have problems.
It's affordable. The price to own it forever is less than the monthly fee you would pay somewhere else.
One license for all your domains! You can use BroadFast on unlimited websites as long as you own them.
Your subscribers can be imported and exported in CSV format. You can even retrieve member details from a live database.
You can see the number of file downloads and link clicks in the emails.
There is online demo. Enter password demo
And It's Only $17!
---
Don't Forget:
All Sales Are REFUNDABLE within 60 days of purchase.
All software comes with:
Unlimited domains license
Instant delivery
Free support
Easy installation
Open source code
Yes, It's Only $17.
---
More About The Features:
BroadFast Email Newsletter Software can do everything you need without unnecessary clutter:
Unlimited users in the mailing list. Create members, import/export them, get them from a live database or just have them register through an online form. Just check how it works at the demo. The password is demo.
PHP Mail, Sendmail or SMTP. You can switch between the simplest PHP mail function to the more reliable and faster SMTP option. (Via the best email library SwiftMailer)
Full personalization of the messages. You can call the receiver by name or embed their email. But it does not end here. If you wish, you can add unlimited number of fields and include them in the customization as well. Gender, age, location, anything you can think of.
Search and sort subscribers to navigate easily through them even if you have thousands.
Powerful import and export settings. You can choose to export only active members and select only some fields. You can import data from any CSV file - it doesn't need to match a specific format. This means if you have existing mailing lists or databases, importing them in BroadFast is quick and easy.
Automatically remove inactive contacts. Contacts can be removed after a defined number of bounces.
Delayed email sending - good for shared hosts. Using a shared hosts that imposes a limit on the outgoing emails? No problem, BroadFast can send your newsletters on portions during the day.
Attachments. You can upload files through the software and then place links to them in your emails.
You can track link clicks and file downloads in your newsletters and know which ones attract the most interest.
Small, very flexible and fast. It's less than 40KB, uses easy to modify design templates and works with PHP and MySQL
Easy to install. No long instructions, just few steps.
And It's Only $17.
---
Technical Requirements:
BroadFast is a web based software. It needs the following platform:
PHP 5.0 or newer
MySQL 5.0 or newer
For delayed email sending it's recommended to have cron jobs enabled on the server (although I can show you a way around this)
The software works fine under Apache on Unix/Linux and Windows. It works on IIS as well although is less tested. If you have problems installing the software, I will assist you.
---
Not exactly what you are looking for? Let me know your specific need and I'll see if I can help. Maybe your are looking for php email autoresponder?
You can also make money with us. See how!
Buy BroadFast And Get:
Full source code
Free upgrades for 1 year
Free support
Unlimited domains license
Money back guarantee
All for $17
For full details look at left
Purchase with confidence, you can contact me easily.